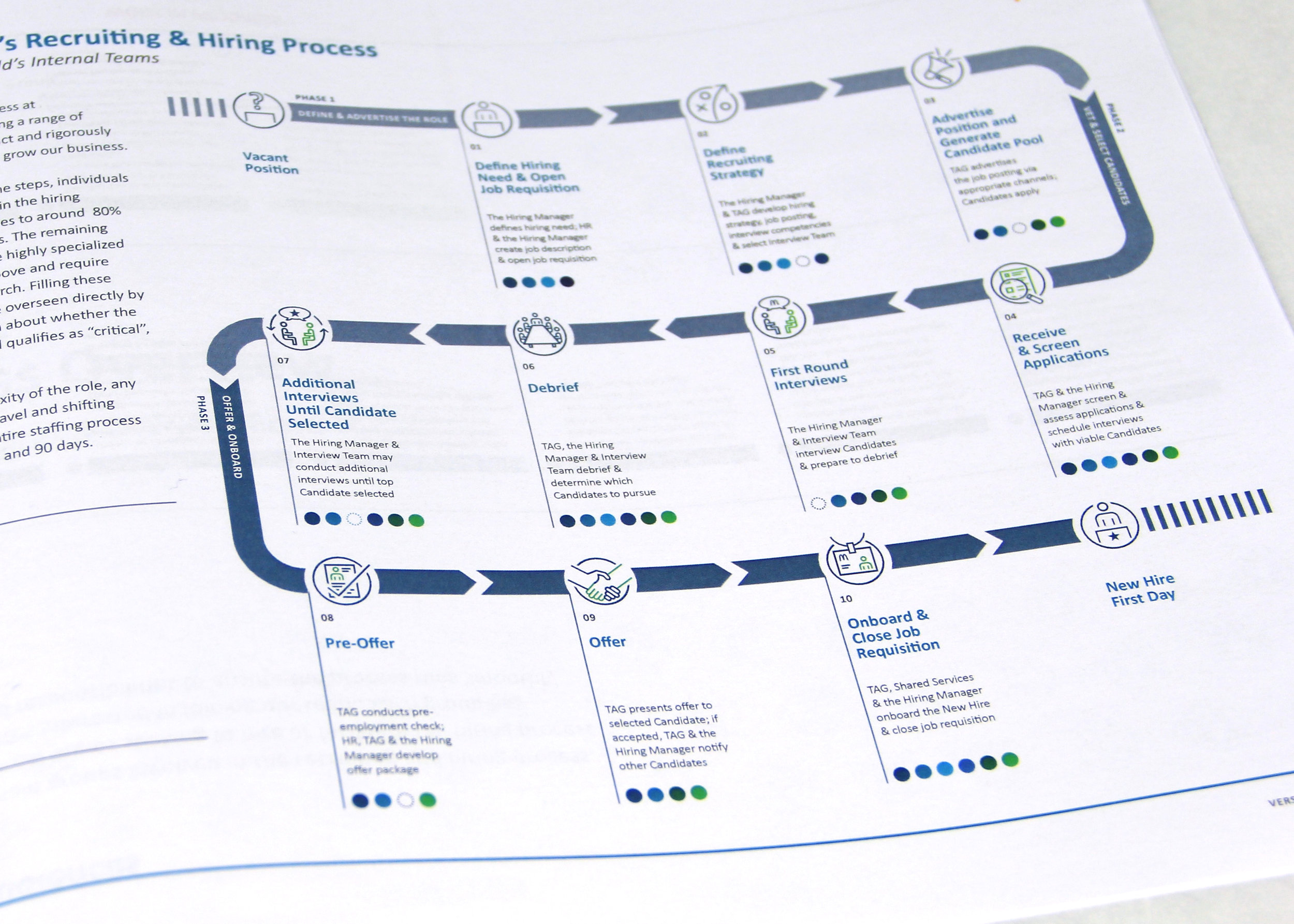 The client's Talent Acquisition Group looked to redesign a clear, easily digestible hiring system, including guides and tools, to align eight departments and improve the hiring experience internally and externally.
PROBLEM
The Talent Acquisition Group (TAG) sought to more clearly define and articulate the candidate selection and hiring process among the wide range of audiences engaged in it—hiring managers, HR business partners, internal and external recruiters and the candidates themselves—so that everyone involved understands their roles, responsibilities, next steps and action items. In addition to describing the process, this work also sought to reinforce the guiding role TAG plays in hiring overall, as an in-house expert ensuring hiring decisions are made in the most informed manner possible.
INSIGHT
Through working sessions with the client and interviews with users, we aggregated the overall hiring process at its most complete level to understand each group's unique goals, tracks, steps, responsibilities, needs and tools. We also benchmarked hiring best practices to identify key areas for improvement – namely that we could make a big difference by streamlining conventions and outlining clear collaboration points between departments. We synthesized the process flow, audiences and messaging needs for the system. Once we created a concept blueprint, we looked at visual process frameworks and collaborated with clients to build communication mood boards including color, map and icons.
Design
From our insights, we digested and reconstructed the full process flow into outputs necessary to best inform specific audiences at various levels, including one-page summary handouts, more relative guides specific to roles and context, and a complete book guide, more complete descriptions relative to role & context, full process tutorial presentations, and large format process diagrams.
IMPACT
We successfully designed a complete system of guides that outline the hiring process with audience-specific toolkits that are aligned to a centralized, standardized, and streamlined approach. It is now used as the definitive resource for hiring. The work also inspired future business with the client.
Client Work
Researcher and Designer
Lift Collective
2015