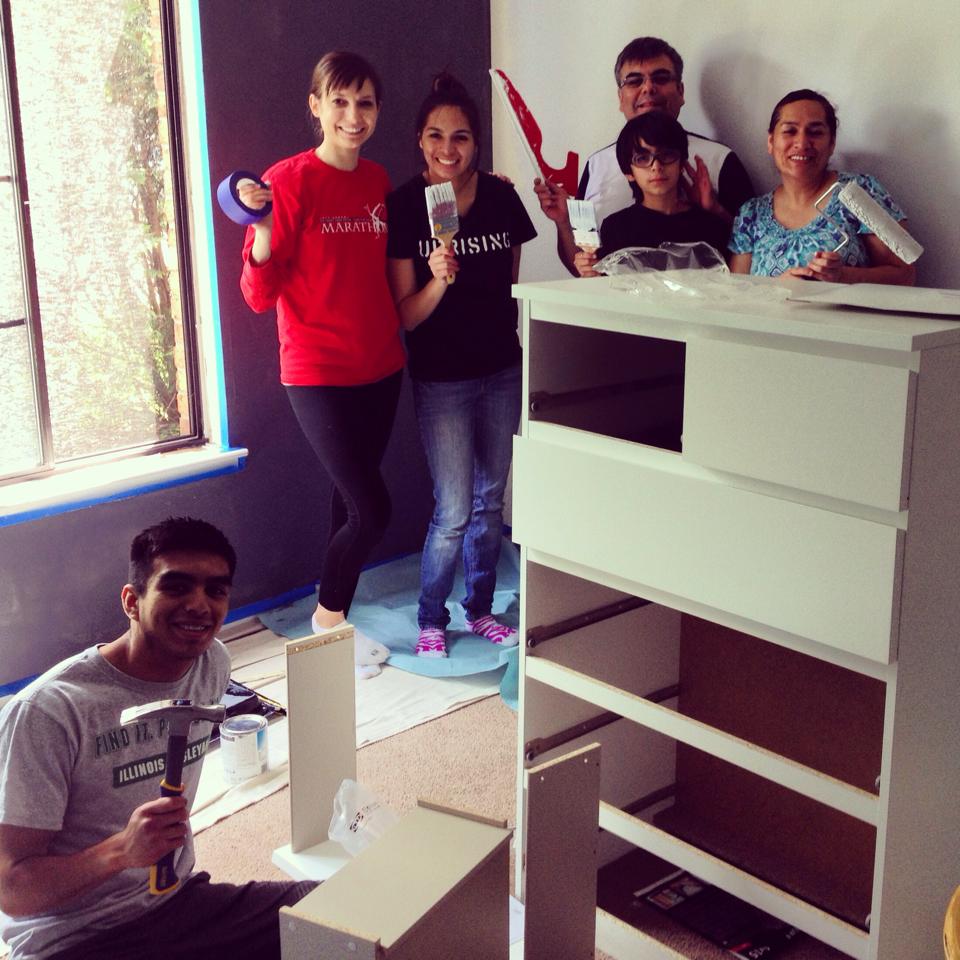 We tackled something that is often overlooked – the sleep and study spaces for kids in need. In our concept Trundle, families partner with designers over a two-month engagement to co-create a new space and build it in one weekend.
Problem
Space is fundamentally important to one's sense of health and well-being, and can especially affect children. In an independent collaboration with Maris Garcia, we looked to improve the lives of children. Through our research, we validated our assumptions on a space's impact on children. Maxwell Gillingham-Ryan, in his article "Apartment Therapy Presents: Real Homes, Real People, Hundreds of Design," says:
"Although professional psychotherapy can take years to bring about change, improving your home has an instant therapeutic effect. No matter how big or small, the changes make a resounding difference in the way you think and feel about yourself."
In addition, Rebekah Levine Coley, in her paper "For low-income families, substandard housing takes toll on children", published in Science Daily, 22 October 2013, states:
"Children and teens whose families live in substandard housing are paying a steep price in terms of their emotional and behavioral well-being... That carries on into school and creates deficits that are extremely difficult to overcome."
Insight
From our academic research and through conversations with teachers, community organizers, artists, families, and business leaders in the Chicago area, we learned that there was an opportunity to work with underserved populations that generally fall outside the radar of social programs. We also learned that many people and businesses would be interested in helping families in their own community.
Beyond these findings, we also looked for inspiration in television and literature. The idea for Trundle was inspired by three works: an episode of Extreme Home Makeover, the book Where Children Sleep by James Mollison, and the short story, A Clean Well-lighted Place, by Earnest Hemmingway.
Design
In our first Trundle transformation we worked with Memo, a high school sophomore, and his family, who we found via a social worker in High School District 211, the largest Illinois high school district with over 12,000 diverse students in Chicago's northwest suburbs. When we met at their home, Memo (16) and his brother Danny (10) were sleeping on a sawed apart bunk bed with broken slats. They had inadequate storage space and no personal study space.
Memo's family, who immigrated from Mexico five years ago, is loving and generous. Collaborating with the boys, their older sister, and parents, we measured the bedroom, designed the layout using models, and shared inspiration for colors, furniture, and bedding online using Pinterest. We partnered with Sherwin Williams and The Bedding Experts to receive donations towards a new bed and paint, and we purchased the remaining items from Craig's List and Ikea. In one weekend, we worked with the family to create a new space – painting walls, building furniture, reconfiguring the layout, providing new duvet covers, and hanging a custom poster that quoted Eleanor Roosevelt ("The future belongs to those who believe in the beauty of their dreams"). The total cost of the build was less than $1000.
Impact
Over the course of a year, we worked with three families. However, Memo says it best:
"I'm the kind of person where if I see too many crowded things, I can't think well…now seeing more space, it makes me feel more calm. I think I can work better…and that desk makes me want to do homework now."
Juana, Memo's mom, said:
"I love it...They are going to wake up and see a new room every day. And that's going to help them enjoy their room and their lives at school. I think everything is going to change."
Over the course of a year, we worked with three families.
Personal Work
Role: Co-founder
Collaborator: Maris Garcia
2014-2015