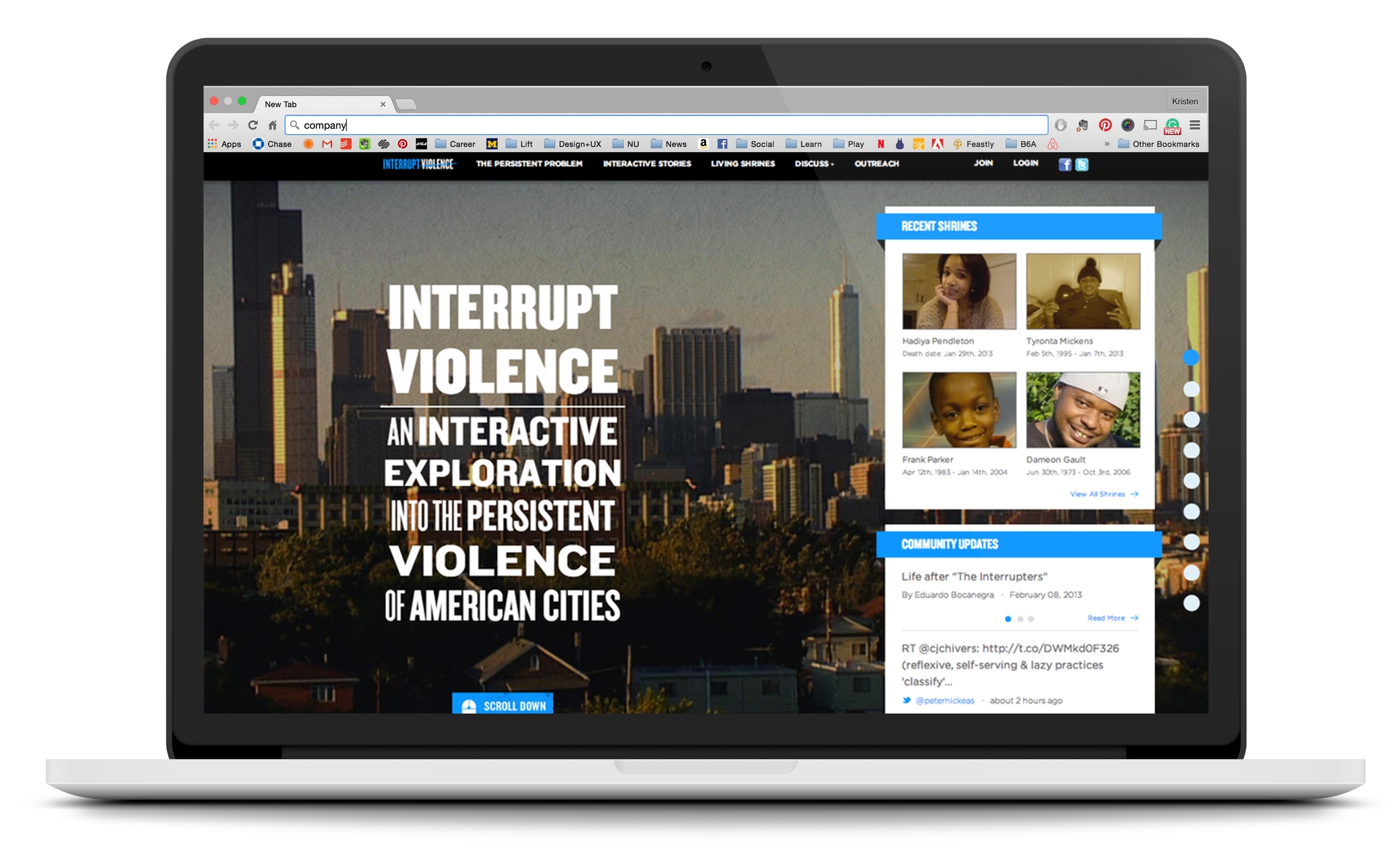 InterruptViolence.com, the outreach campaign for the Emmy Award Winning film The Interrupters, served as a hub of community engagement and provided interactive curriculum that taught Common Core aligned conflict resolution strategies.
Problem
The Interrupters, a film that explored urban violence as an epidemic disease, was screened thousands of times at small viewing parties, in theaters and even at the UN. The goal of the transmedia effort was to broaden the exposure of the film while deepening the impact because of the multiple entry points into the film's content as well as supplementary resources. Commissioned by the Tribeca Film Institute, Frontline, and ITVS, InterruptViolence was created by Kartemquin Films and The Mozilla Foundation through The Living Docs Project.
Insight
We interviewed educators and community leaders to understand needs for violence education and to align on vision for the project. We learned that there were many existing community resources, and wanting to build momentum in the effort to stop gun violence, we aggregated them onto InterruptViolence and made them searchable. We also learned that though we created many educational resources, that there was an opportunity to partner with other institutions to create custom programs.
Design
Responsible for promotion, outreach, and educational materials to accompany the film, we designed social media campaigns, mapped the overall goals of the program to community partners, designed teacher workshops with community organizers, and helped coordinate screening efforts for the film. We also participated in film screenings and panel discussions and designed promotional material for and participated in an online live chat with Ameena Matthews.
Impact
The film was awarded the 2013 PUMA Impact Award by the Channel 4 BRITDOC Foundation for making the most significant social impact over the previous year
Client Work
Researcher and Outreach Coordinator
Question Box Studio
Collaborators: Andrew Suprenant, Anton Seals, Tim Horsburgh
2013-2014